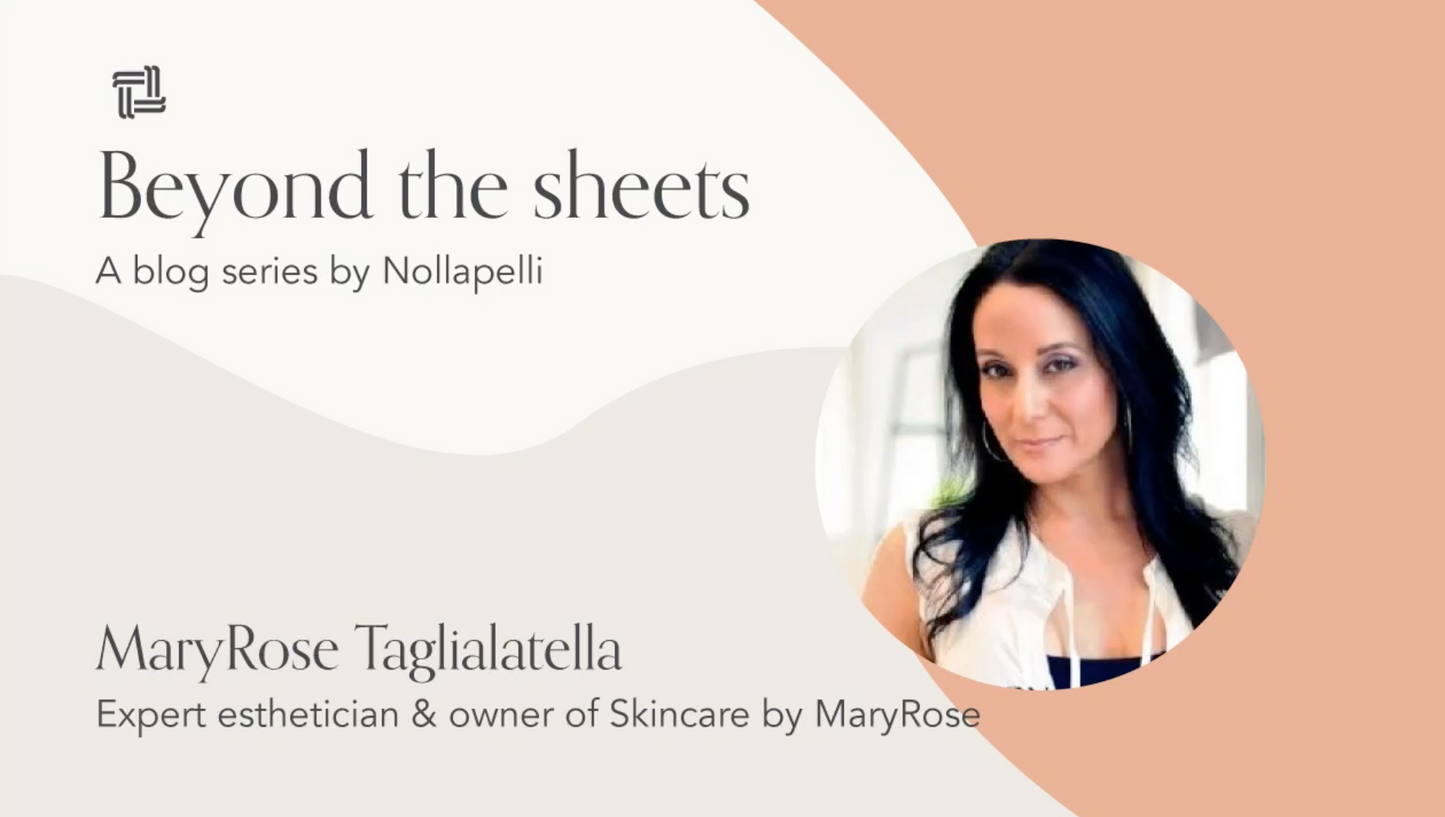 MaryRose Taglialatella, expert esthetician and owner of Skincare by MaryRose, enters my zoom screen swiftly and is a breeze of fresh air. Despite the changes and restrictions COVID-19 has brought to her business, MaryRose is not defeated, she is determined. Skin is her passion, whether it is her own or her clients, and no amount of distance will keep her from educating and promoting basic, scientific skincare - hydration (which is more than drinking water as we learn from MaryRose), exfoliation and finding joy. 
MaryRose has more than 35 years of experience as an esthetician. Trust me, heed her words and absorb her energy. You won't be sorry.  
 Written Transcription:
Jessa (Nollapelli) : Let's jump right in. I'm so curious because you have over 30 plus years of experience, but what drew you to the power of skin? As you said before, it's our largest organ. There's so much power in health, what drew you to the care and the power of our skin? 
MaryRose: Well, I actually was in beauty school to do hair and makeup. That was my direction. We used to have a program where masters would come in and talk, these would be people in the area that were successful at a master level, and one was an esthetician and I'm like, Oh, okay. He talked about skin. And I was like, I felt that I'm changing direction. He set up a facial. We put the music on and I thought to be able to make someone relax and feel great. I thought, okay, that goes beyond. I mean, don't get me wrong, obviously, aesthetically hair and makeup do too. But to physically touch someone, to be able to touch them and have them say, Oh my God, I feel so amazing - you just made me forget about my day. I was hooked. That's what I want to do. That's my passion ever since then and I still have had the same passion for 35 plus years.
Jessa: I mean touch in general too. I think people have figured out the power of touch through this pandemic because they haven't been able to, whether it's a hug, whether it's a facial…
MaryRose: I thought, this is what I do for a living. I touch, what am I going to do for a living? 
Jessa: And so we have had this discussion at Nollapelli about how we believe skin care is essential care, right. We're on the East coast, but across the States, there's all these different regulations on who can do facials, who can not, what skincare you can do because of mass coverings. So I mean here at Nollapelli we believe that estheticians should be able to do those facials. We believe it's essential care. How are you adjusting now with this pandemic? hHow can we support our local estheticians if they're not able to complete their services?
MaryRose: Well, I will tell you, when the pandemic hit, I was in shock. I was like, wow, I touch people for a living. How am I going to adjust my business and what I do? So needless to say, I feel extremely blessed because my clientele is more like family to me. We are in contact at all times. And I think that as a business owner and as an esthetician, my clients have access to me through my personal phone, through email, through social media at all times. So during the pandemic, people were texting me, how are you? What are your thoughts about what's happening? Clients were asking for products. And I was like, okay. In the beginning, you know, when it hit, I was like, well, I could, a lot of my products are already packaged in plastic and in boxes. So that's how they come already. So I said, I'd be glad to drive into your house and put it in your mailbox. If you feel comfortable with that, I'll wear gloves, whatever, you know? And they were like, absolutely. I can at least sell some of my retail. It was very important for me for my clients not to regress in their skincare regime. I really wanted them to keep up their skincare regime and all the work they've done on their skin and not fall backwards.
I was calling my vendors. Can I still get products? Can you ship them to my house? Instead of my business, my businesses closed. They were like, absolutely. So that's what I was doing. I reached out to every single client, but what else was I doing? And I was sitting home. I have to do something. Right. And I'm a very high energy person. I workout, I'm into nutrition. Every single day I checked in with all different clients, and honestly, my clients were like, what can I do to keep you afloat? They were so amazing. I was blown away, blown away.
Jessa: That's amazing.
MaryRose: Clients were buying products and leaving money in an envelope saying, "Take the money. I want you to stay afloat. I want to be able to see you again." But that's what I did. 
Jessa: That goes back to your point about how you like to educate as part of your service, you like to educate about skin. And so your clients know how important routine is. And just like you said, you didn't want them to regress. They didn't want to regress either, especially not knowing the timeline of all of it. Right? 
MaryRose: Exactly. And if you know anyone who's going through stress and trauma, such as a death or job loss or a divorce. I mean, I hate to say it, but it really ages you. I knew with this pandemic, people were coming depressed. Again, we just mentioned skin is the largest organ whatever's going on inside is going to show outside. I not only was talking to them about skincare, but I was talking to them about tapping into old hobbies, whatever brings you joy in your life - get out, walk, do whatever you need to do to feel better because this is going to pass right now. I wanted them to know that I'm here. I'm more than their esthetician. 
Jessa: I was going to say, I think you're a little bit of a guru over there. 
MaryRose: What if you asked someone what brings you joy? It's a tough question. 
Jessa: It is. A lot of people can't answer it. It seems so simple.
MaryRose: It's really, it is difficult. And I was like, look, we're not wearing makeup. Let's work on our skin. You can become a little bit lazy. I don't care what you do, you better be doing your skincare.
And that's what I did, I hate to say it, but I was peddling products. And I was like, tell me what you need, drink water hydrate. Because that's crucial. I always say to my clients, you can never be hydrated enough. 
Jessa: I had to be really strict on reminding myself to drink water at home.
MaryRose: It's huge. I always laugh and say to my clients, no one's ever going to say, Oh your skin's too hydrated [laughter]. That will never happen. And you know, again, I think I was so concerned about the no touch thing, you know, with the pandemic, like, are people going to be afraid to come and see me? 
Drink Water. Hydrate… No one's ever going to say, "Oh your skin's too hydrated."
Jessa: Well, it's interesting. Allison and I were just talking about the dentist. Me, being pregnant, having a dentist appointment is really important. When I left the dentist, I thought to myself about this interview, I'm thinking, what's the difference? 
MaryRose: Right. 
Jessa: I mean, it was a wellness checkup, but your smile is a part of your face, is a part of your wellness. I just, to me, it was like, I don't understand why. I mean, we're in Pennsylvania, right? Like, why can't we have facials, you know, as estheticians, you would wear the proper gear to keep everyone safe. Like, why is that? Why is skincare not in the same realm? 
MaryRose: I agree. I felt the CDC just doesn't understand what we do. As an esthetician of all these years, I have always taken precautions. I don't care. I act like there's a pandemic all the time. That's how I am. I actually hired an employee right before the pandemic. I trained her for like eight to nine months. She worked one week and the pandemic hit. So I was like, please don't lose your passion, please. You know? And the crazy thing is she used to be my client. She had expressed an interest in skincare. I'm like, okay, let me know when you're done school, get back to me. And, she did. Like I said to her, I cannot be explicit enough on every single thing that we do. It's even more crucial now that we are under a magnifying lens. 
You know, in 2007, 2008, when it was horrible, I had three jobs. I worked in three spots, three of them just to keep afloat. So when this [pandemic] hit I was like, I'm not down yet. I've been through other storms. I can weather that. 
Jessa: For people that can't get to their estheticians, what would you recommend in maintaining your skin? You talked about drinking water, maintaining their routine, making sure that we're staying very hydrated. I mean, we talked a little bit before we started recording about our Nollapelli bedding. 
MaryRose: Right.
Jessa: My mind really goes to - it's time to invest in better bedding for your skin. Is there anything else that, for people that cannot go and get their facials, what they can do to maintain their skin? 
MaryRose: Absolutely. Well, I think basic skincare is where you start. We are actually in the fall season right now here in Bucks County, Pennsylvania. It's important that we exfoliate. Removing the dead skin stimulates cell turnover. When you remove the dead skin that lays on the stratum that your stratum corneum and epidermis, right. You're removing that in order for any products to penetrate or anything to actually penetrate your skin, you've got to exfoliate. Now, American women tend to overdo it. 
My family is of European descent and I've spent a lot of time with the product line that I sell. They taught me from a very young age that you do not want to overdo it. A lot of American women love scrubs, right? Granulated, scrubs to exfoliate, really gritty granulated scrubs. I'm not a big fan of them. Scrubs can irritate. And it depends on how thick your epidermis is. Some people are thinner, some people are thicker, but I always tell my clients, exfoliate at home at least twice a week during the fall. Of course you can choose your product of choice. But I always ask them to get back to me and let's confer about what you're using. Right. And I will research a product if I don't have the answer, I get right back to them. Get that dead skin off. And of course hydrate. 
And what I mean when I say hydrate… people never use toners at home. I'll say, are you using a toner? They'll say I'm dry. So are you using a toner? Oh no. Don't you think I need to change my moisturizer? No. Toners are crucial. Skincare is science, when you cleanse, you disturb your pH, you want to replace it. That's where toners come in. No cotton ball, cotton pads. Those days are over. You're using a misting spray to just leave on the skin. Toners contain Hyaluronic Acid, big word for hydration. So I say, use a toner. Exfoliation, and toning are two things you can do. 
Skincare is science, when you cleanse, you disturb your pH, you want to replace it. 
That's where toners come in. 
Jessa: So spray it on after you cleanse. You have to replace your pH. And by replacing it, you also allow a better surface for your moisturizer or your facial serum. Am I correct in saying that?
MaryRose: Good answer. Perfect. It wears it better. Chronic acid moisturizer binds to your skin, right. It's toners helping it hydrate. And then you put the moisturizer on. You're good. Just basics. 
Jessa: it's so easy to overcomplicate things. Your skin changes as your body changes. I've noticed it with pregnancy and it's, you know, I want to go out and get all of these different things, but at the end of the day, My skin is more sensitive than it's ever been, and I just need to stick to my basics. 
MaryRose: Cause you're hormonal right now. I can do a facial and know if a woman's pregnant,just based on the sensitivity. Your skin changes all the time through so many reasons, stress, and I've been seeing a lot of maskne, which we call mask acne.
Jessa: Yes. We've talked about maskne, because we made masks out of our Nollapelli fabric. That's something that we adapted. I personally use our Nollapelli mask because of the innovative textile that we have, it's nice for maintaining that sweat, that breathability. 
MaryRose: Clients are clamoring for that [breathability] right now. I do a lot of nurses who have to be in a mask 10 to 12 hours a day. I have one nurse who's in labor and delivery and she started to break out. She's like, Oh my goodness, I have the maskne. I had her come in, we talked about what we should do as far as a breathable mask. Right. 
When I work, I work 10 hour days, I work with a mask and a Z shield and gloves and goggles. When a client says to me, I can't take these masks. I'm like, yeah, you can. This isn't going anywhere. We're going to be masked for a very long time. So you have to get used to it. So I say, now brows are very important. 
Jessa: The eyes are the window to the soul… [laughter]. I want to talk about that transition to fall and winter for skin. Rachel, our Director of Marketing and I, we were talking about how we're seeing pumpkin alot right now. Pumpkin craze happens every fall. What is it about pumpkin that is so beneficial for our skin? 
MaryRose: Well, first of all, I mean, you know, there's so many antioxidants in pumpkin. Also we use enzymes, take the enzymes from the pumpkin for exfoliation. I do great treatment with a pumpkin enzyme and I use steam. You can't believe how smooth your skin feels. So your skin enzymes are a really good alternative to an alpha hydroxy or some type of peel. It is peel and enzyme is a peel, but it's much gentler than an alpha hydroxy. You can do them under steam or not under steam. 
First of all, it smells amazing. Secondly, the enzymes break down the dead skin, they break the bonds of the dead skin on your epidermis and they make you very, very smooth. And then sometimes I couple it with a nice chocolate mask because that helps antioxidant-wise, but pumpkin has been used for years and their enzymes are, they can be, they can go from a 10%, all the way to a 60%. And you can't believe the strength and the quality and the exfoliation.
It's a better alternative to using a granulated scrub because I feel that with a granulated scrub, American women correlate scrub, scrub, scrub with clean, clean, clean, and that has nothing to do with it. 
Jessa: It reminds me of, we've had a couple of other conversations with skincare experts and one is Patrick Chan of Ling Skincare out of New York. And he was so big on this. 
MaryRose: American women like that tight feeling. It doesn't mean you are clean, it means you are dehydrated. You're drying. Your skin is not good. And you should always, cleanse, then I just say absolutely exfoliate. But again, some exfoliants can bleed you dry, especially a scrub. They can leave you dry. So an enzyme, especially this time of the year, a pumpkin enzyme is absolutely perfect, gentle exfoliating. 
Jessa: And non-irritating right, because as fall comes, humidity lowers, but then that, that takes out the moisture of our skin. Right? 
MaryRose: We are very lucky to have humidity in the summertime. And I always tell my clients, you can't use the same thing in the summer that you're using in the winter. You have different needs. 
Jessa: Yeah. I'm such a loyalist when it comes to my products, I find something I really like, and I want to stick with it. But like you said, our skin is ever-changing. 
MaryRose: Right. Our skin changes, we're changing and just know you're going to be working indoors. Some people are working indoors now, obviously. And you're, you know, you're combating the outdoors and now you've got the heat indoors you're combating. So you have to adjust your skincare regime. It could be just maybe changing up a moisturizer or adding a serum. 
Jessa: The serum comes before the moisturizer.
MaryRose: Correct. You're good.
Jessa: And I've just started using a serum and that's why I'm late to the game. 
MaryRose: That's the whole idea - that you're layering. 
Jessa: I'm down to my last question, But what is one thing you do for your skin every single day? 
MaryRose: Well, I do my skincare regime every single day. I mean, you got to live and breathe it what you do. I absolutely, positively, every single day use sunblock. It's very important. I use a product that's actually a DNA repair, which is unusual. So I use that every single day, even if the sun's not out because of the DNA repair and because I'm very active. So even if I'm outside walking or running and the sun is not out, I use the SPF every single day, even in winter. 
There are SPF's in your makeup, but now people aren't wearing makeup. So, if you are a woman who wears makeup, there's SPF in your makeup and there is SPF sometimes in your moisturizer, but you can never really count on that to cover you. If you live on the East coast, there's always conditions. You never know what's going to happen. Right. And if the sun just happens to pop out and you're outside working out. So I absolutely use my SPF every single day. I love it. 
Jessa: MaryRose, you've been so amazing. It's been so refreshing. You have such a wonderful spirit.. 
MaryRose: I'm so glad you reached out. And I have to tell you, I was very interested in your product and you know, as a woman who's going through menopause, they [Nollapelli sheets] could be lifesavers.
Jessa: We need to get you a set of those sheets!