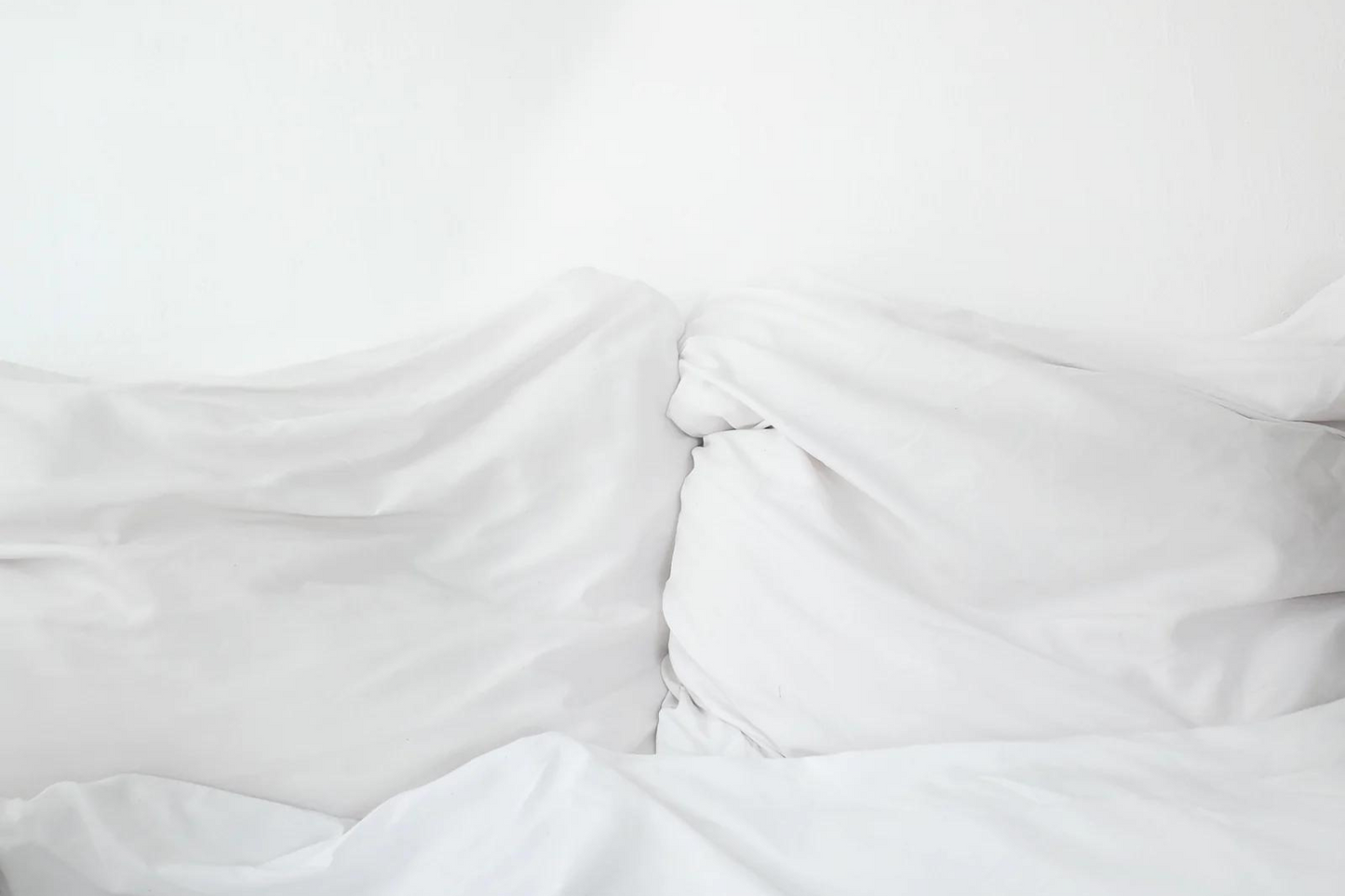 When it comes to bed linens, cotton seems to be king. Stores are bursting with percale, sateen, organic, and Egyptian cotton sheet sets. But if you're specifically looking for a new pillowcase, which fabric is best suited to soothe your skin as you snooze?
Beauty rest?
According to the Wall Street Journal, the answer is silk. They cite dermatologist Francesca Fusco explaining that silk is so smooth, it helps you avoid crease marks on your face. The hypoallergenic material doesn't cause irritation, nor does it wick moisture away from your face. Even better, your hair will glide over a silk pillowcase (rather than stick due to the friction of cotton), and you'll wake up without knots or tangles.
Buttery bedding, glowing skin, and fabulous hair–what could be better?
It turns out that silk is not perfect. The biggest downsides to silk are that it's expensive, delicate, requires hand-washing, and can't be thrown in the dryer. Its more durable cousin - satin - can be machine washed and offers many of the same benefits of a smooth surface for hair and skin, however satin is typically made from polyester, which means it a 100% synthetic fabric. In addition, both satin and silk aren't very good at managing temperature or moisture.
Metal mania
The New York Times reported an interesting study on nanotechnology's role in pillowcases. Textile companies infuse tiny particles of copper into pillowcases that promise to reduce the appearance of wrinkles, crow's feet, and fine lines as well as combatting bacteria and fungi. New York City based plastic surgeon Dr. Yael Halaas was impressed with the copper pillowcases' ability to control acne.
She was interested in copper-infused sheets as well, saying they would be "great for back acne." Halaas was intrigued by a study that found "a statistically significant cosmetic effect" from using the copper-infused pillowcases for a month. While she didn't think the linens would ever replace plastic surgery, she says they might compete with facial creams in terms of effectiveness. Dermatologist Joshua Zeichner told Allure that "copper is an essential cofactor needed for skin health." He explains that our cells use copper to produce collagen and elastin, as well as hyaluronic acid – the substance that plumps skin and leaves our faces looking fresh.
Copper isn't the only metal to meet the mattress. Silver pillowcases make many of the same claims. Zeichner agrees that since silver is "anti-inflammatory, antimicrobial, and has wound-healing properties," it makes sense that the pillowcases would be good for your skin. Since we spend so much time in our beds, our pillowcases tend to build up a layer of gunk and critters. Silver is thought to ward off bacteria and help with skin health.
However, many metal-infused sheets are made from cotton, bamboo, or linen, which are prone to wrinkling. These fabrics also retain moisture which causes temperature fluctuations and disturbed sleep. In addition, they cause bed-head and sleep lines due to increased friction, which over time can lead to permanent facial lines and wrinkles. 
A simple yet smart option
Nollapelli combines two different yarns in dual-faced construction to create a fabric that balances moisture, temperature, and friciton, leaving skin looking and feeling fresh.
Our bed sheets and pillowcases are designed to keep you cool and comfortable while you sleep, and protect your hair and skin too.
Easy care for better rest
Regardless of which fabric you choose, it's important to wash your pillowcase regularly. With Nollapelli's pillowcases that are designed to be extremely easy to care for, the task is even easier. Dermatologist Joyce Imahiyerobo-Ip, MD, urges us to launder pillowcases at least weekly. Even if we're going to bed with clean skin and freshly washed hair, she says, "your face is not the only thing coming into contact with your pillowcase."
And if you've just been tossing your linens in with your towels each week, think again. Professional cleaning service Merry Maids say, "That's a major faux pas because towels have a nasty habit of producing lint, which can stick to your sheets." Merry Maids suggest washing the linens on their own, with a gentle detergent and to use warm water instead of hot.
While you're taking care of your pillowcases, don't forget to think about the pillows they cover too. Martha Stewart recommends zipping pillows into a pillow protector to "keep allergens at bay while shielding pillows from hair and body oils, which can soak into the filling." Stewart prefers down pillows, which she says can last over 10 years, making them well worth the investment. Martha reminds us we spend a third of our lives in bed, "so why not make it the cleanest, loveliest, and most comfortable spot in your home?" 
And if you choose materials like Nollapelli pillowcases that help you sleep well, help your skin and hair look more youthful, and are very easy care? Even better.