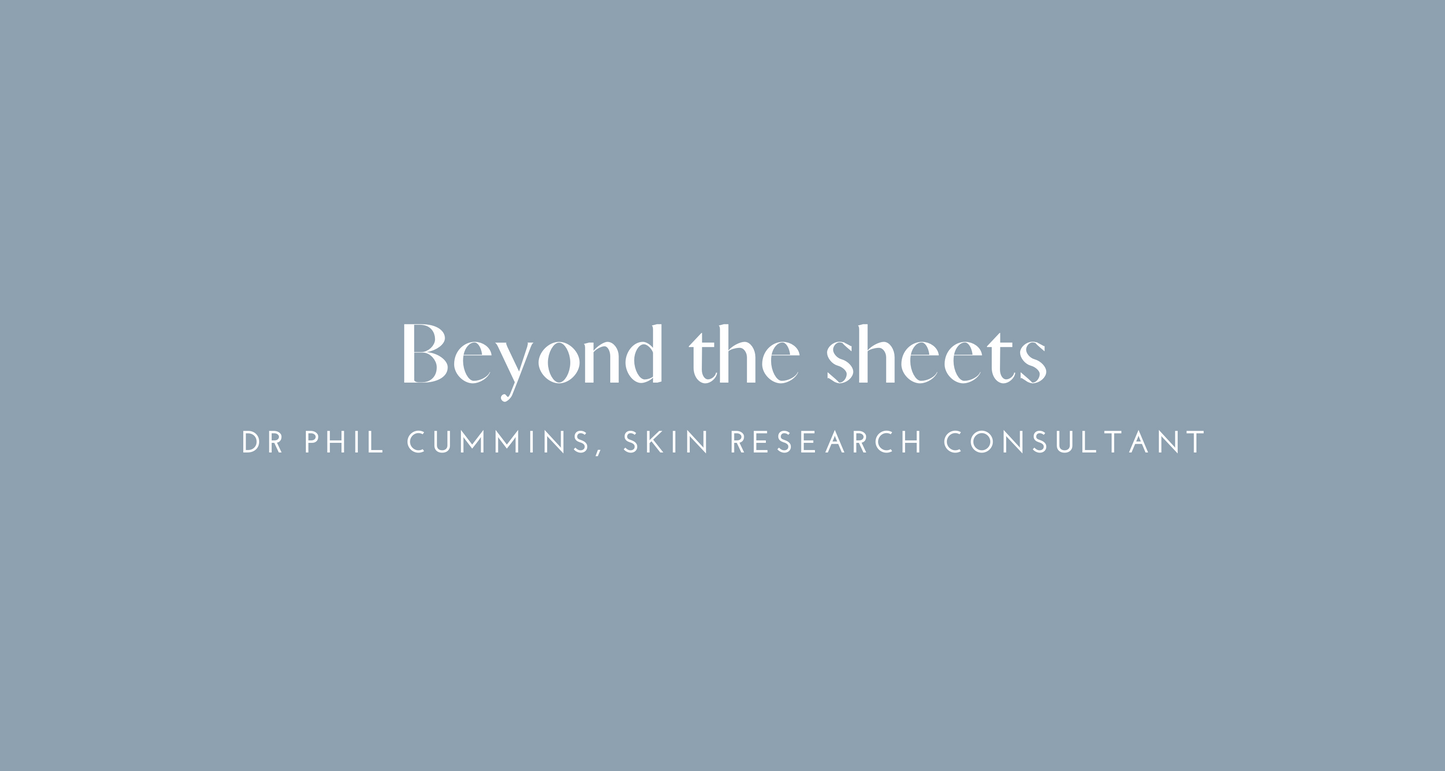 Welcome to our monthly series, Beyond the Sheets. Each month, we will speak with an expert or influencer, disrupter or trendsetter in the wellness industry to glance into their journey around health and wellness
Dr. Phil Cummins brings a wealth of skin science knowledge to the Nollapelli family. He worked for Unilever for 23 years ending his tenure as a Vice President of Research & Development with Unilever's Home & Personal Care division. He then served as Research & Development Director of Estée Lauder for nearly 12 years. Phil now enjoys retirement life but still immerses himself in scientific consulting. He never wants to stop learning. He has a warm curiosity which shines bright in our conversation. Please meet the lovely Phil Cummins.
Nollapelli: What was a memorable take away from your time with Unilever and Estée Lauder?
Phil: In a general sense, when you have an action plan and a set of objectives, they get done when people have meaningful goals within that and sensible timelines. Couple this with the mixture of the right people who can make it happen and will respectfully work with one another. It applies in most walks of life, really. I use these two terms a lot – doing the right thing and doing the thing right. You need both of those in concert for the project or task to work.
Nollapelli: What drew you to study and then work with the science behind personal care and wellness?
Phil: I have always been an avid learner. I try to learn at least one thing new every day. It doesn't matter how trivial it is.
Nollapelli: You are an expert in skin science. How important is our skin?
Phil: It is a living organism. Well partially living, not the outer layer, but the rest of it. It is our last base of device to the outside world. It also helps to control what's going on inside. It is an extremely important organ in the body. It has a lot of say for a lot of things that go on in the body. It is the first one to know when something is not right. It is a mirror of what the body is feeling.
Nollapelli: What is one thing you do for your skin every day?
Phil: Keeping my skin hydrated, whether up north in the very dry winter air or down south in the humid continuous sun, by using a moisturizing product either in the shower or as a cream coupled with a sun blocker. This must be an SPF 30 coupled with a UVA screen and I often supplement with a hat. This protocol helps to keep the skin fully hydrated and the functions of the skin in the needed balance.
Nollapelli: What was your initial reaction when Allison approached you about Nollapelli?
Phil: It came out of the blue. I didn't know Allison, and she was in the audience of a talk I was giving. She had come up to me, and she had such a drive and a passion. I knew she had come out of Bayer and decided to do something for herself, which I had admiration for. The physical knowledge that I had, she needed. I was a piece of the jigsaw puzzle.
Nollapelli: What propelled you to join our family?
Phil: I saw it was a real advantage to use all the knowledge [around skin science] that is out there but from a different perspective. No one has done it from that perspective before and built it into a product. It's also fun, and all of my knowledge has been able to be interconnected.
Nollapelli: The science behind Nollapelli's soft bedding fabric is layered and complex. What makes the composition of our sheets different from traditional bedding fabrics?
Phil: You can make one side of the fabric different from the other side of the fabric by the way you weave it. You can create drivers for moving water backwards and forwards – from the skin to the fabric and from the fabric to the skin. What Nollapelli is doing is creating a material that has a true inside and a true outside. The idea of this type of product is to keep the whole system in balance. The temperature of the skin, the temperature of the fabric and the amount of water which controls that temperature is moving backwards and forwards as an active system rather than a passive system. Cotton just gets wet. Cotton absorbs all the water. Silk has similar problems too. But this intelligent material [Nollapelli's patent-pending combination of natural and synthetic yarns] has the ability to control the flow.
Nollapelli: What excites you most about your work with us?
Phil: Since one spends five to eight hours a night with one's face against a piece of fabric, why not try and build on that knowledge and use that five to eight hours to control the balance of the water in the skin. It is the balance of water that affects wrinkles, it affects rejuvenation, it affects the flexibility of the skin. If you control that water, you control the temperature. If you control temperature, you affect the core temperature of the body which allows you to sleep better. If you sleep better, then your body is more active when you wake up and your well-being rises. There is a win, win, win, win, win.
Nollapelli: We are lucky to have you as part of the family Phil!
Phil: Well, I keep out of the way unless she [Allison] really needs me [said with a light-hearted laugh].
Nollapelli: You have touched a lot on interconnectedness and you have such a passion for your work. What would you say is the heart of Nollapelli?
Phil: Controlling skin hydration, controlling skin abrasion, controlling the skin temperature and the feel are at the heart of what Nollapelli is doing. Everything is connected to everything else. Nothing is isolated.
Nollapelli: If you had to describe Nollapelli's soft sheets and pillowcases in three words, what would they be?
Phil: Balance. Holistic Comfort – whether it physically feels comfortable and whether you psychologically feel comfortable with it. Family.