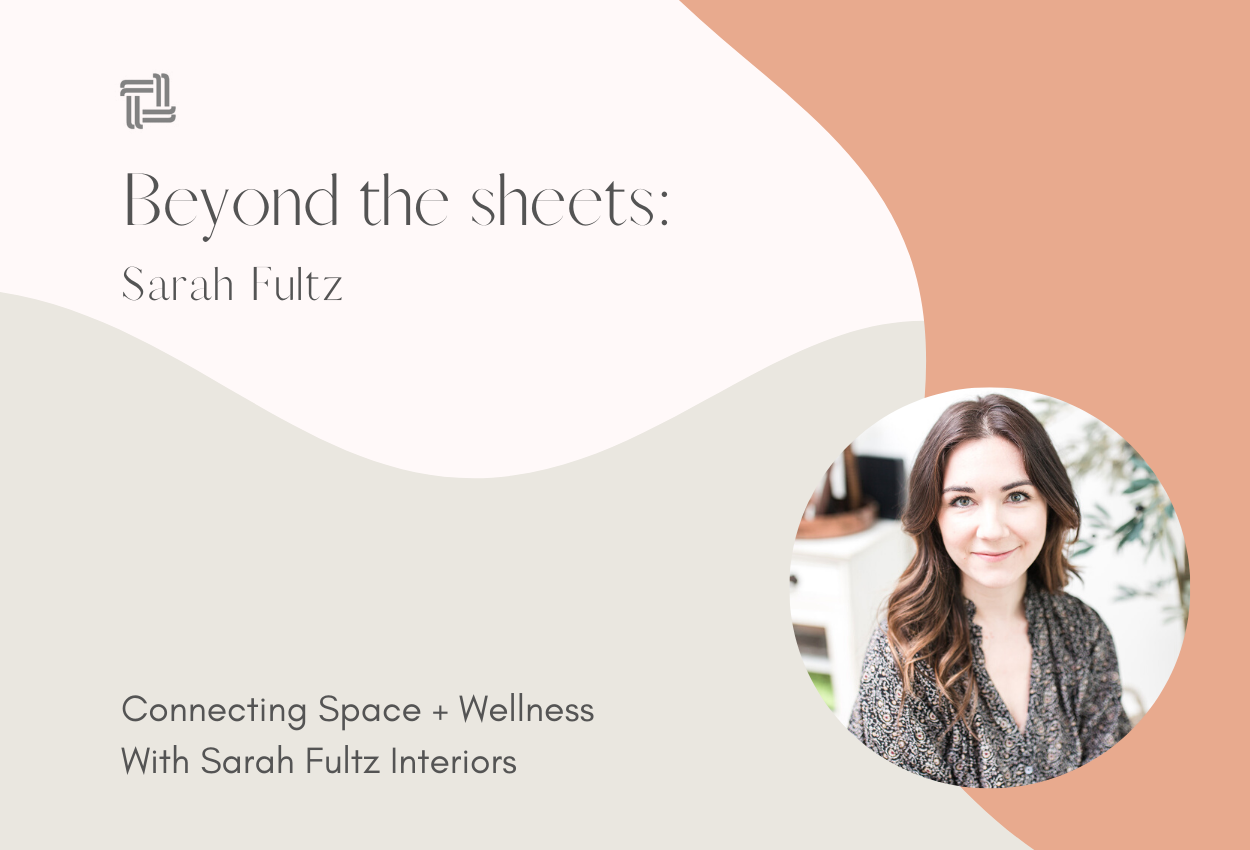 Beyond the Sheets is a monthly series where we share the health and wellness journeys of fellow wellness disruptors; those, like our founder Allison, forging innovation around sleep, skincare, and overall well-being. This edition features Sarah Fultz.
This month, I chat with Texas-based interior designer, Sarah Fultz (please excuse me while I pause to drool over the jewel green room in her portfolio). We recently collaborated with Sarah and gifted her our soft sheets. Sarah is a "man-cub raising momma," and we knew the durability and comfort of our sheets were up to the test!

Sarah and I discuss how spaces are deeply connected to our overall wellness. This is more crucial than ever with the increased amount of time in and around our living spaces. She shares her number one tip for creating a sleep sanctuary, and why finding our specific, natural aesthetic is so important for our health. Like her designs, Sarah is a breath of fresh air. Enjoy your time with her (I certainly did)!
…
Jessa (Nollapelli): How can the design of a home impact one's health? Many of us overlook the connection between our surrounding spaces and our wellness.
Sarah: As individuals, we have a natural aesthetic. A lot of people believe that means I like this design style, and yes, that is a part of it. But it also means that we're able as individuals to thrive in certain environments better than others, in every way - mentally and physically. Living in a space that you love and fits your natural aesthetic, it frees you up to focus on things that truly matter, like your health.

Jessa: Can you give an example in your home where the space has a direct impact on your wellbeing?
Sarah: We prioritize two things in our home. First is natural light. I know that is a privilege we have and the way we were able to position our home. We invested in big windows that are open. Our entire house is white, which helps with the natural light. Our house is lit almost all day long without turning on electricity. That is very life-giving to me. The second thing is a minimalist aesthetic, not a true minimalist, but I thrive with minimal noise - visual and audible noise. I need it quiet in my eyes. Also, everyone wins because it's fewer things to pick up.

Jessa: With three boys I am sure that is helpful! Pivoting to sleep, we talk about sleep sanctuaries constantly here. How do you create your environment for sleep?
Sarah: I love that y'all use "sleep sanctuary." I don't know that we have ever called it that, but that is 100% our bedroom. One thing we do, and we are not perfect at it, and it's hard for three boys to get it in their heads- kids are allowed in the bedroom, but toys aren't. The bedroom is a place where we snuggle, this is where we read, where we are together- but no Legos please. We have art we have collected over the years that we love. We have vintage textiles including this Moroccan wedding blanket that I picked up in Morocco. We have things that mean a lot to us, they are beautiful to look at and are personal. I have my favorite essential oil diffuser which promotes better sleep for us. And, of course, we've got the best bedding around!
Jessa: What a wonderful transition! How are the sheets treating you? It sounds like your whole family is experiencing them!
Sarah: As our family has grown, it has been important to me to have things that we love and are of high quality, but aren't precious. I don't want my kids to feel like they live in a museum. This is their home; I want them to be comfortable. On the bedding side of things, I have been so pleased because we are all in that bedding a lot. They have held up. At this point with most sheets, I typically see awkward stretching, pilling, discoloration and your sheets feel brand new, the softest things on the planet. I'm a hot sleeper, and constantly searching the bed for my cold spot. These sheets have been game-changing. It's a permanent cold spot, but I'm also warm.

Jessa: I don't know how Allison created this fabric.

Sarah: There's some witchcraft there and I'm fine with it!
Jessa: How can people start to create their own sleep sanctuary?
Sarah: In any design consultation, my first piece of advice is to start by decluttering in an aggressive way. I am so passionate about this, responsibly getting rid of the things that no longer serve you. It will have a game-changing effect on your overall mental health. Based on what I've seen, you need to get rid of 50 – 75% of the things you have. If that means for a moment, you are left with bare walls and an empty closet, that is okay. White space is better than clutter. We are meant to bring order out of chaos; it removes things that can be toxic for us and paves the way for new, exciting things, especially from a design perspective.

Jessa: What is one thing you do for your sleep every day?
Sarah: I believe in the power of ritual and routine when it comes to sleep (just like we teach babies to sleep), so I have a nightly tradition of tidying up, walking through my skincare routine, then reading for at least 20 minutes. All these steps tell my body it's time to sleep.