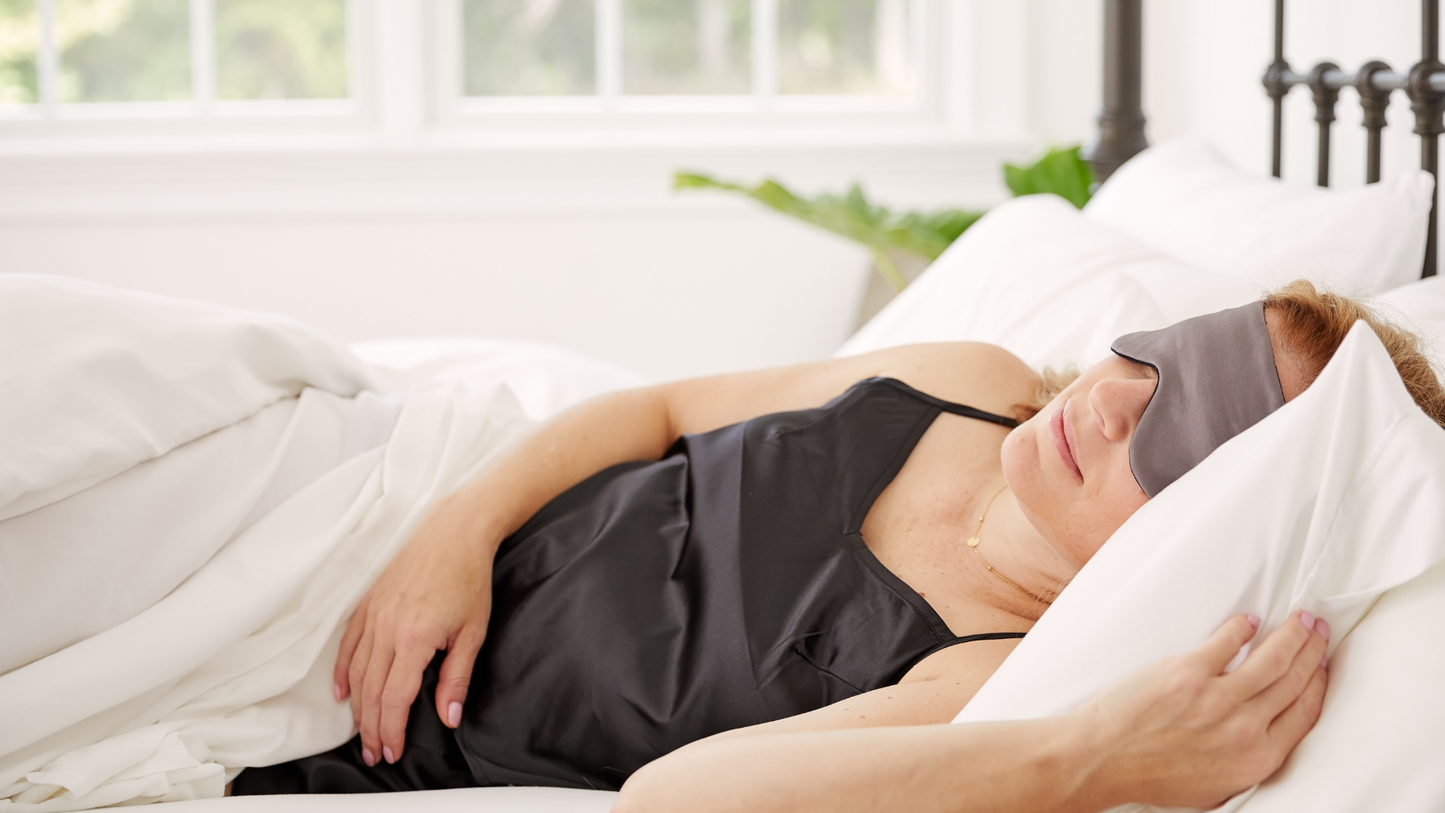 Getting your best beauty rest just got easier.
Our new Restorative Eye Mask blocks light to promote healthier sleep AND increases microcirculation around your eye area to mitigate puffiness, dark circles and fine lines.
Blocks light
With a luxurious dark charcoal gray silk on the front and rich black restorative fabric on the skin-facing side, our eye mask completely blocks light to support your healthiest, deepest sleep.
Boosts microcirculation
The skin-facing fabric contains Sensil Innergy, an innovative nylon yarn that uses your body heat to increase microcirculation. This increase in blood flow helps to minimize puffiness, dark circles and fine lines.
Fits best
Our eye mask has two adjustable flat elastics to keep the mask in place, be most comfortable and have minimal impact on your hair. One elastic should sit higher on your crown and the other lower near the base of your head.
FAQ's
Will the benefits wash out?

No! The benefits are baked into our innovative fabric and will not wash out over time.
What fabrics are used in your eye mask?

The skin-facing side of our Restorative Eye Mask is a special nylon fabric that contains a naturally occurring mineral additive. The outside-facing fabric is 95% silk + 5% spandex. 
What's the best way to care for my new eye mask?

We recommend hand washing in cold water and air drying.
Where is the eye mask manufactured?

Our eye mask is proudly made in the USA.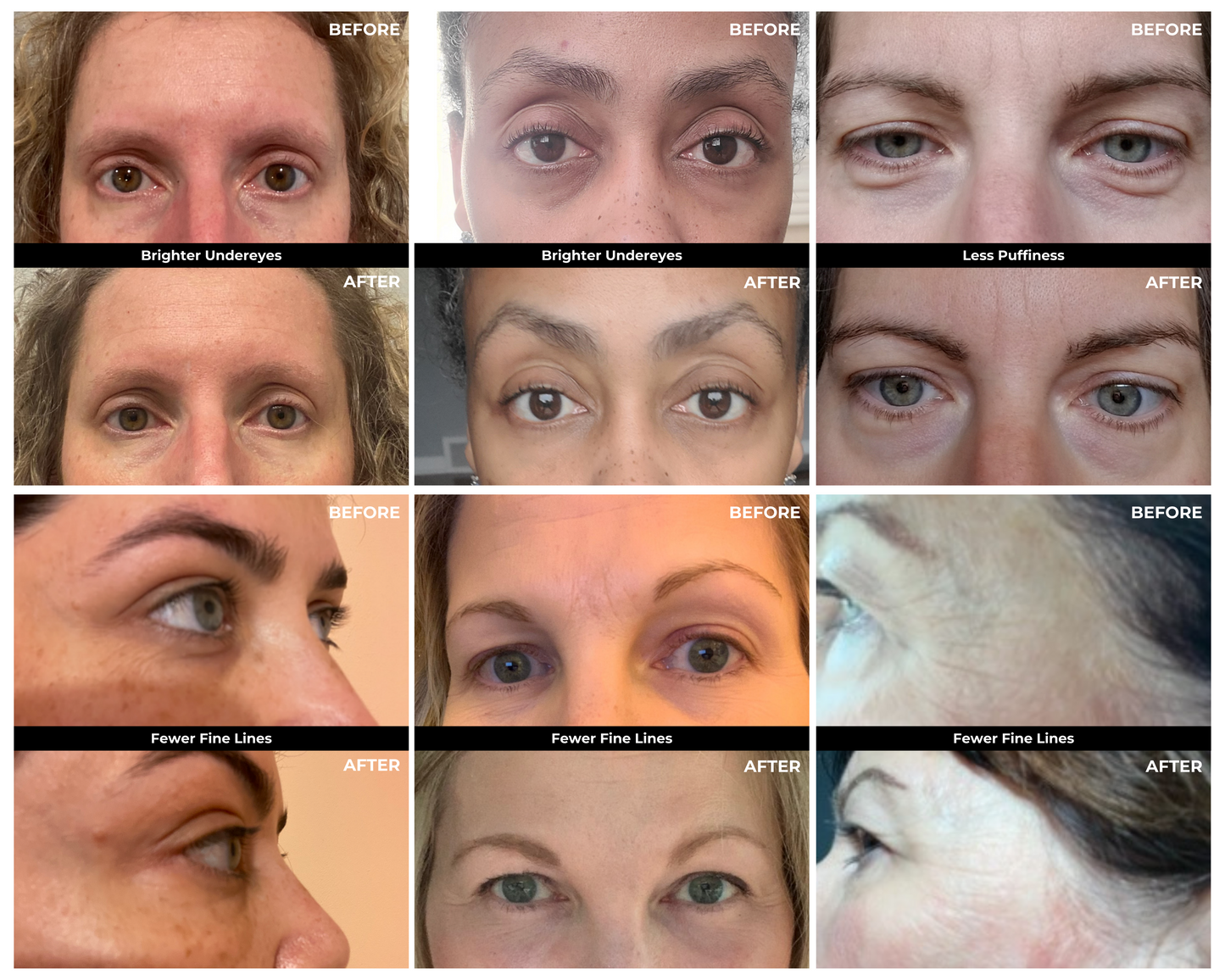 Tested & Approved
30 people participated in a 30-night trial to study the impact of our restorative eye mask on sleep and skin.
80% saw an improvement in sleep
100% saw an improvement in their eye area
100% will continue wearing the Nollapelli Restorative Eye Mask
Not too tight
When I received my eye mask, I tried it on and it felt too tight. I planned to return it and was quickly given a return label from cs when I requested it. I decided to give it another try. I wore it to bed last night and was surprised how comfy it is. I could sleep without being woken. It's quite comfy when you adjust the two straps correctly.
Getting more deep sleep
According to my Fitbit when I'm wearing this mask I get more deep sleep on average than when I'm not wearing it. It took me while to get used to it maybe three nights or so. But it's super comfortable and I love what it's doing for the puffy undereyes.
Unfortunately too tight
We bought two masks for our upcoming air travel last week. Unfortunately we both felt the masks were too tight, my husband in particular, so we did not use them. However we love love love the sheets!!!!
Hello and thank you very much for sharing your feedback with us! We're terribly sorry to hear that the fit of our eye masks did not work for you. We are working on a design modification and will be in touch via email to share more details with you.
I'm a sleep goddess & warrior now!
Thanks to my amazing restorative eye mask my sleep metrics from my Oura sleep tracker have improved: I'm a sleep goddess & sleep warrior! Thanks Allison & the Nollapelli team for your innovation and sleep solutions 🎋🌟💕