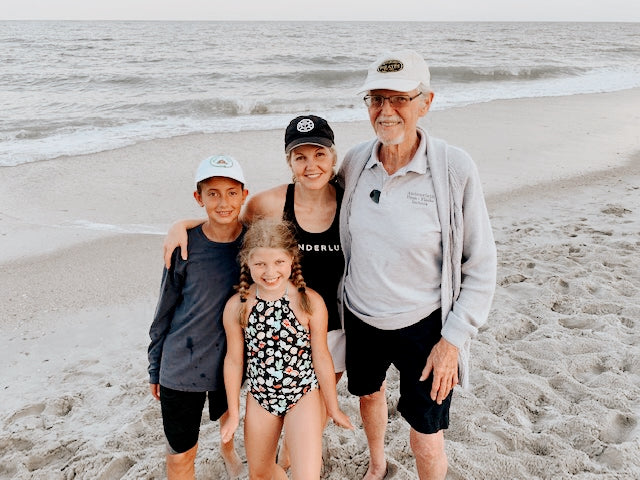 "Sometimes timing just works out perfectly," begins Allison, our founder, as she reveals the details of her beloved relationship with her father, Bob Howard. 
Bob Howard, Allison's father; Allison Howard, Nollapelli founder; Chris Howard, Allison's brother
October 1st is International Day of Older Persons, and it is probably a global holiday you don't have marked on your calendar. In 1990, the United Nations General Assembly voted to deem this day of awareness and appreciation for our older citizens, citizens often not given the spotlight they deserve. 
Did you know, before launching Nollapelli, Allison spent time learning about the senior care space? She seriously considered investing her entrepreneurial talent and spirit in that area. 
International Day of Older Persons is more than a day to Allison, it is a lifestyle. 
On top of being a round-the-clock business owner, devoted mother and mentor, Allison is also her father's full-time caregiver. International Day of Older Persons is more than a day to Allison, it is a lifestyle. 
Here is Allison's story:
"In mid-2007, my dad was in need of a place to live, and our tenants were vacating soon, so my dad moved into the vacant apartment on the third floor of our home. He was quite fit and independent, and he quickly found himself a new companion. Several years later when it was time to move, he had become comfortable living with family. That's how things stayed. 
As the years ticked on, my dad's age started to show, in the typical physical ways, but even more so in his brain. Dementia is very sad to watch, especially for a brilliant man who could solve any calculus problem and still loves sudoku and Jeopardy.

As his daily needs increase, I'm reminded that caregiving is one of the most difficult, yet most underappreciated jobs. 
Caregiving for my dad is not easy, but it is teaching me to slow down and to have more patience. Some days I'm definitely better at it than others. With each difficult task, in work and in life, I'm learning to break it down, and keep breaking it down, until the task becomes something that you can tackle. And don't forget to lean on your own community for support."
Allison ends, "It's so important to cherish the older people in your life. If you're lucky enough, someday you may be old too."
 Cheers to Allison and all caregivers gracefully handling older persons with the attention, appreciation, kindness and respect they deserve. 
Cheers, Bob!