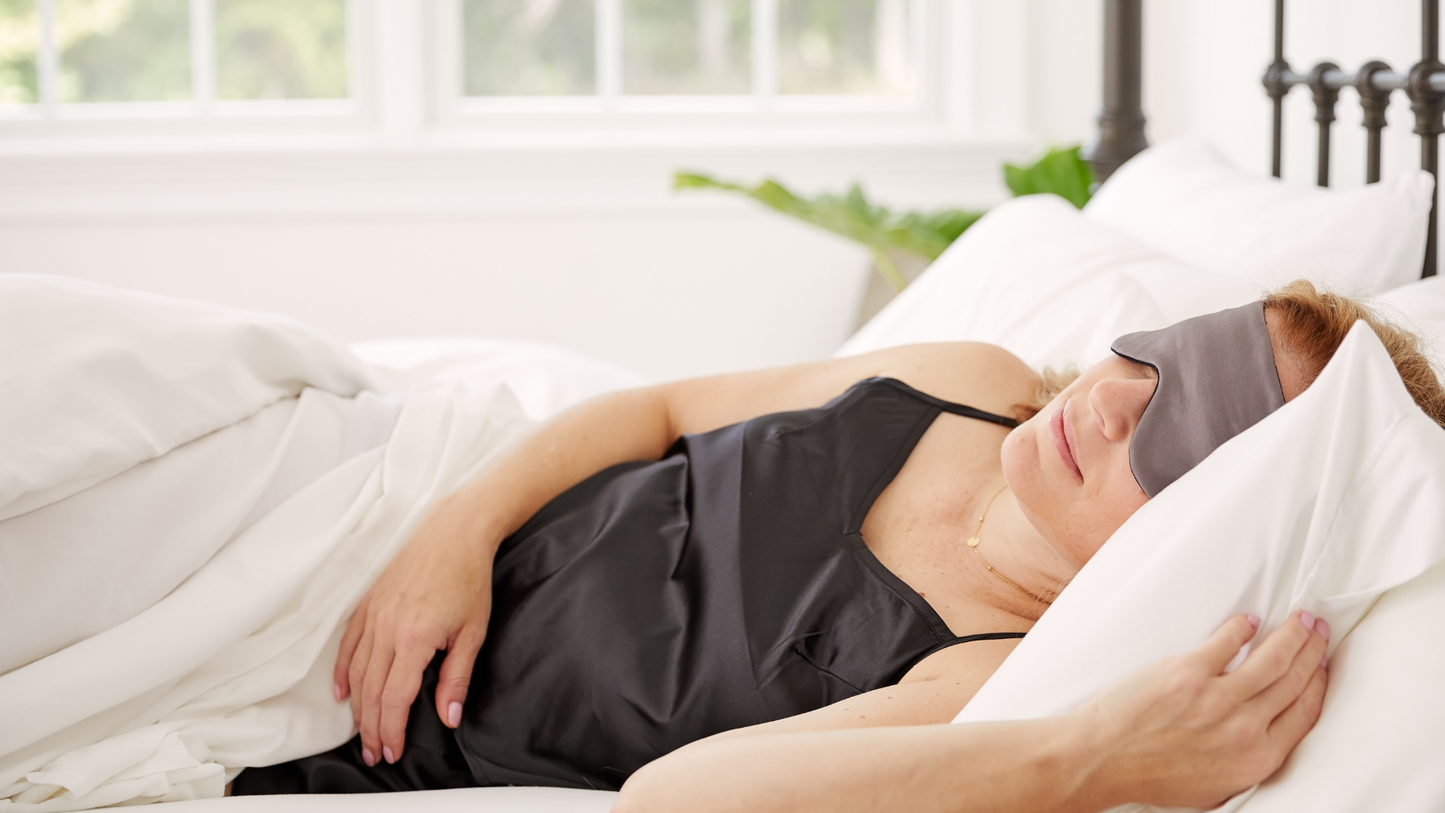 Sleep, look, and feel better effortlessly with the BEST bundle!
Our limited edition Restore Bundle makes the PERFECT GIFT for the beauty sleep aficianados in your life! (or for you, we won't tell)
The gift set includes one Restorative Eye Mask and one Signature Pillowcase (queen size).
Get your best rest and wake up looking and feeling ready to face your day!
How to get the best (beauty) rest?
The presence of even a little bit of light can impact our ability to get deep sleep, so covering your eyes with an eye mask AND sleeping on a cool, smooth, dry pillowcase is really your best bet!
Our restorative eye mask is designed to block light and actively restore your eye area using an innovative fabric that increases microcirculation, which helps mitigate puffiness, dark circles, and fine lines.
Our signature pillowcase is made from a patent-pending fabric that is cooler, smoother, and drier than cotton, while being much less fussy and easier to care for than silk.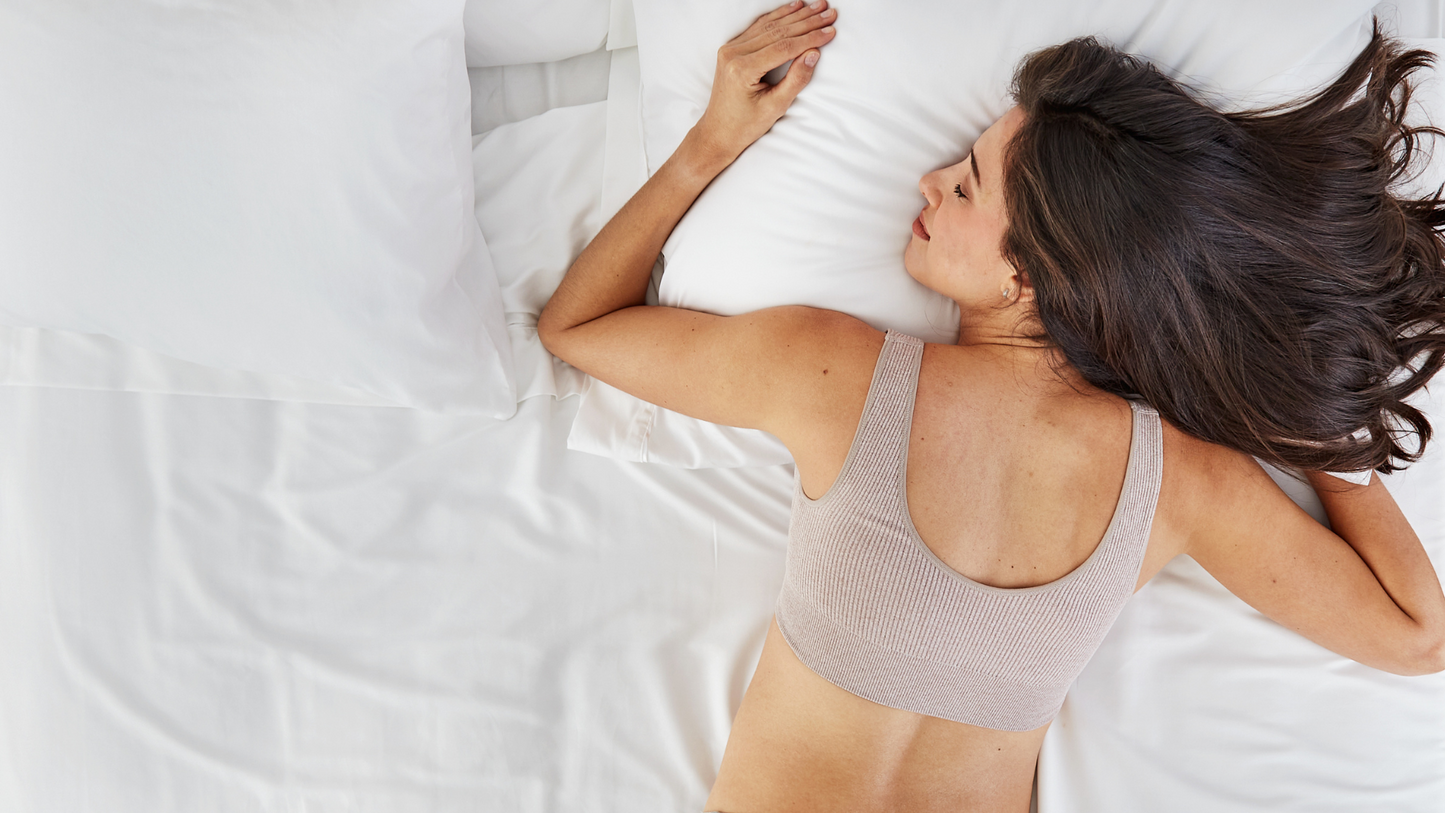 The secret is in our fabrics.
Our patent-pending fabrics use simple, science-based skincare principles to work with your body while you sleep.
Our eye mask fabric effortlessly increases microcirculation around your eye area using your own body heat.
Our bedding fabric ensures your skin and hair stay hydrated and slide (not stick) by perfectly balancing moisture, temperature, and friction.
Can't sleep without this pillow case!
I'm a side sleeper who does not move much when I sleep. If I want to avoid sleep lines, my Nollapelli pillow case is a MUST!! The eye mask, of course, is an extra bonus and necessary for daytime napping.
FAQ's
What's the best way to care for my new sheets & pillowcase?

Nollapelli sheets are extremely easy to care for. We recommend machine washing on warm with like colors and tumble drying on low.
What materials are in your fabric and are they eco-friendly?

Our woven, signature, patent-pending bedding fabric is comprised of 45% eco-friendly Tencel® lyocell, 35% nylon and 20% fine Pima cotton.
What is the thread count and how does it impact quality?

While thread count is considered by some as a measure of quality, it is important to understand that thread count simply refers to the number of horizontal and vertical threads per square inch. We believe that true quality comes from what's inside, that's why we use the highest caliber yarns in our construction. Nollapelli's thread count of 300 results in bed sheets and pillowcases that are light and breathable with a natural drape.
Where are the products manufactured?

Our bedding is made in the USA from imported fabrics.
30 Days Risk Free
Not in love? Return it. But you will be.
Free Shipping
Thank Amazon ;0
30 Days Risk Free
Not in love? Return it. But you will be.
Free Shipping
Thank Amazon ;0